Tulum, Mexico
Nestled along the breathtaking coastline of the Yucatan Peninsula in Mexico, Tulum has emerged as a world-renowned destination that captivates the hearts of travelers from every corner of the globe. With its rich history, stunning natural beauty, and serene ambiance, Tulum offers a truly unique experience that is bound to leave an indelible mark on anyone fortunate enough to visit.
One of the most remarkable aspects of Tulum is its historical significance. As you step into the ancient Mayan ruins that overlook the azure waters of the Caribbean Sea, you are transported back in time to a civilization that flourished over a thousand years ago. These ruins, perched on a cliff and adorned with intricate carvings, provide a glimpse into the ingenuity and architectural prowess of the Mayan people. Exploring the temples, palaces, and ceremonial sites is a humbling experience that reminds us of the grandeur of the past.
Tulum is also renowned for its stunning natural landscapes. Pristine white sandy beaches stretch as far as the eye can see, inviting visitors to bask in the warm sun and swim in the crystal-clear waters. The nearby Sian Ka'an Biosphere Reserve, a UNESCO World Heritage Site, is a testament to Tulum's commitment to environmental conservation. This protected area is home to a diverse array of flora and fauna, including exotic birds, jaguars, and sea turtles. Exploring the reserve through guided tours or kayaking along its mangrove-lined channels allows visitors to connect with nature in a profound way.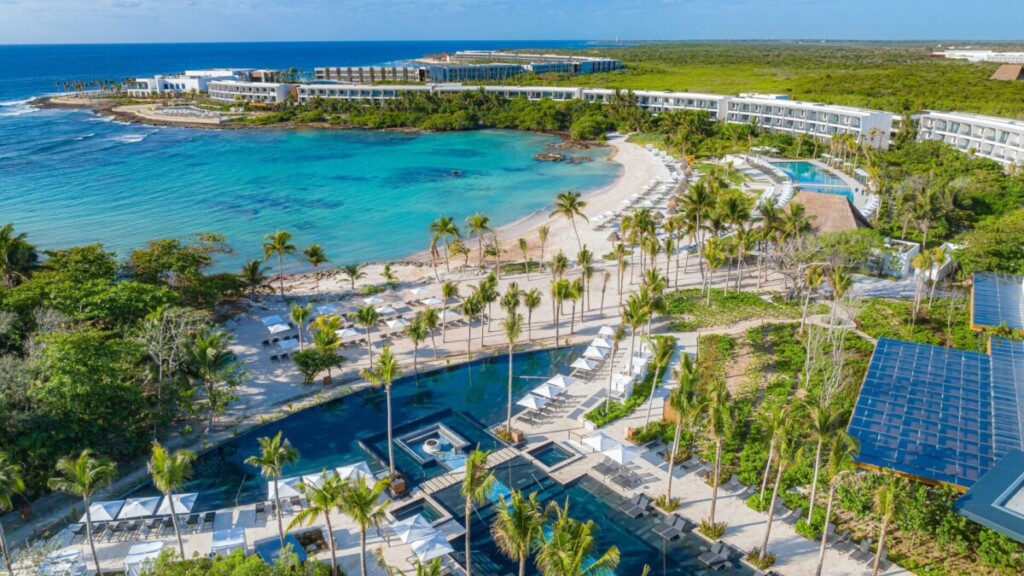 Beyond its historical and natural wonders, Tulum offers a unique sense of serenity and tranquility. Unlike its bustling neighbors, this coastal paradise embraces a more laid-back atmosphere that encourages relaxation and introspection. Boutique hotels and eco-friendly resorts blend seamlessly with the surrounding environment, providing guests with a harmonious blend of luxury and sustainability. Yoga retreats, meditation centers, and wellness spas abound, catering to those seeking inner peace and rejuvenation. The slow pace of life and the absence of high-rise developments allow visitors to escape the stresses of modern-day living and find solace in the simplicity of nature.
In conclusion, Tulum is a destination like no other, a place where history, nature, and serenity converge to create a truly transformative experience. Whether you are a history enthusiast, a nature lover, or simply someone in search of tranquility, Tulum has something to offer. Its ancient ruins, pristine beaches, and commitment to sustainable tourism make it a treasure trove of exploration and self-discovery. Tulum beckons you to embark on a journey that will leave an everlasting impression on your soul.
Top questions and answers people ask about Tulum:
What is Tulum famous for?
Tulum is famous for its well-preserved Mayan ruins, stunning beaches, and eco-friendly resorts.
How do I get to Tulum?
You can reach Tulum by flying into Cancun International Airport and then taking a shuttle, bus, or taxi to Tulum, which is approximately a two-hour drive away.
What is the best time to visit Tulum?
The best time to visit Tulum is during the dry season, which runs from November to April, when the weather is warm and rainfall is minimal.
Are the beaches in Tulum public?
Yes, the beaches in Tulum are public, and visitors can enjoy the beautiful shoreline. However, some beachfront areas may be associated with resorts or restaurants.
What are the must-visit attractions in Tulum?
The must-visit attractions in Tulum include the Tulum Ruins, the Gran Cenote, the Sian Ka'an Biosphere Reserve, and the Tulum Beaches.
Are the Tulum Ruins worth visiting?
Absolutely! The Tulum Ruins are a major highlight of the area, offering stunning views of the Caribbean Sea and providing insights into Mayan history and architecture.
Can you swim in the cenotes in Tulum?
Yes, swimming in cenotes, natural sinkholes filled with freshwater, is a popular activity in Tulum. The Gran Cenote and Dos Ojos Cenote are among the most popular ones.
Is Tulum safe for tourists?
Tulum is generally considered safe for tourists. However, it is always important to take precautions, such as being aware of your surroundings and avoiding isolated areas at night.
What is the local cuisine like in Tulum?
Tulum offers a vibrant food scene, with a focus on fresh seafood, Mexican cuisine, and international fusion dishes. You can find everything from street tacos to upscale dining options.
What are the best activities to do in Tulum?
Some of the best activities in Tulum include visiting the ruins, snorkeling or diving in cenotes, exploring the biosphere reserve, practicing yoga, and enjoying the local beach clubs.
Are there any eco-friendly accommodations in Tulum?
Yes, Tulum is known for its eco-friendly accommodations. Many hotels and resorts in the area are committed to sustainability, utilizing renewable energy sources and promoting environmental awareness.
Is it necessary to rent a car in Tulum?
Renting a car in Tulum is not necessary, as the town is relatively small and can be easily explored on foot or by using bicycles or taxis. However, having a car can provide flexibility for exploring nearby attractions.
What is the nightlife like in Tulum?
Tulum offers a unique and laid-back nightlife scene. There are beachfront bars, lounges, and clubs that offer live music, DJ sets, and cultural events, catering to a diverse range of tastes.
Can you take day trips from Tulum?
Yes, Tulum serves as a great base for day trips to nearby attractions. Popular day trip options include visiting the UNESCO World Heritage site of Chichen Itza, the beautiful island of Cozumel, or the vibrant city of Playa del Carmen.
What should I pack for a trip to Tulum?
When visiting Tulum, it is advisable to pack lightweight and breathable clothing, swimwear, sunscreen, insect repellent, comfortable shoes, and a hat. Don't forget your camera to capture the stunning views!
Top Resorts in Tulum:
Be Tulum Hotel – This luxurious beachfront resort offers stylish accommodations, a spa, two infinity pools, and a renowned beach club, providing guests with a truly indulgent experience.
Habitas Tulum – Nestled in the jungle, this eco-friendly resort features beautifully designed rooms, a private beach, a holistic spa, and a variety of wellness activities such as yoga and meditation.
Nomade Tulum – Combining bohemian charm with luxury, Nomade Tulum offers beachfront cabanas, a spa, a temazcal (sweat lodge), a restaurant serving organic cuisine, and regular yoga and dance classes.
Papaya Playa Project – Known for its rustic elegance, this eco-resort features beachfront cabañas, a beach club, a spa, and hosts regular music and cultural events, creating a vibrant and laid-back atmosphere.
Mi Amor Hotel Tulum – This romantic boutique hotel offers stunning ocean views, intimate rooms with private terraces, an infinity pool, a rooftop bar, and a renowned restaurant serving gourmet cuisine.
Sanara Tulum – Focusing on wellness and healing, Sanara Tulum offers beachfront suites, a yoga studio, a spa, a healing center, and a restaurant serving nourishing plant-based meals.
Azulik Tulum – With its unique treehouse-style accommodations, Azulik Tulum offers a truly immersive experience in nature. The resort is adults-only, featuring breathtaking ocean views, an art gallery, and a spa.
Casa Malca – Set in a former private estate, Casa Malca offers luxurious rooms adorned with contemporary art, a beach club, a rooftop infinity pool, and an exquisite restaurant serving international cuisine.
Nest Tulum – This intimate boutique hotel boasts beautifully designed rooms with private plunge pools, a serene garden, a spa, and a rooftop bar offering panoramic views of the Caribbean Sea.
Kore Tulum Retreat and Spa Resort – Providing an all-inclusive experience, Kore Tulum features spacious rooms, a large swimming pool, a spa, a fitness center, and access to a private beach club.
La Zebra Colibri Boutique Hotel – Combining comfort and authenticity, La Zebra offers beachfront accommodations, a beach club with live music, a restaurant specializing in Mexican cuisine, and a cocktail bar.
Ahau Tulum – Known for its eco-friendly practices, Ahau Tulum offers beachfront bungalows, a yoga studio, a beach club, a restaurant with organic and vegan options, and a lively bar.
Rosa del Viento – This charming hotel features thatched-roof bungalows surrounded by lush gardens, a beachfront restaurant, a swimming pool, and a spa, providing a tranquil and relaxed atmosphere.
La Valise Tulum – With its intimate and minimalist design, La Valise offers luxurious beachfront suites, a rooftop pool, a gourmet restaurant, and personalized service, ensuring a memorable stay.
Mia Tulum – Set on a pristine beach, Mia Tulum offers spacious rooms, a beach club, a large swimming pool, a spa, and a restaurant serving Mexican and international cuisine.
Coco Tulum – This bohemian-inspired hotel offers beachfront cabañas, hammocks, a beach club, a restaurant, and a bar, creating a laid-back and rustic beach experience.
Here are some all-inclusive resorts in Tulum:
Dreams Tulum Resort & Spa – This family-friendly resort offers all-inclusive packages with spacious rooms, multiple swimming pools, a spa, various dining options, and a kids' club.
Grand Bahia Principe Tulum – Located within a larger resort complex, Grand Bahia Principe Tulum features all-inclusive amenities such as multiple restaurants, bars, swimming pools, a spa, and access to a private beach.
Barceló Maya Beach – Situated along the Riviera Maya coastline, Barceló Maya Beach is part of a larger resort complex offering all-inclusive services, including a water park, entertainment activities, restaurants, bars, and a spa.
Hotel Xcaret Mexico – Although not located directly in Tulum, Hotel Xcaret Mexico is a nearby all-inclusive eco-resort that combines luxury with sustainable practices. Guests have access to multiple parks, cenotes, and cultural experiences, along with various dining options and activities.
Akumal Bay Beach & Wellness Resort – Situated in Akumal, a short distance from Tulum, this all-inclusive resort offers beachfront accommodations, a spa, swimming pools, multiple restaurants, and activities such as snorkeling and kayaking.
Catalonia Royal Tulum Beach & Spa Resort – An adults-only resort, Catalonia Royal Tulum provides an all-inclusive experience with luxurious rooms, a spa, swimming pools, a private beach area, and various dining options.
Grand Oasis Tulum – This all-inclusive resort offers a range of amenities, including multiple swimming pools, restaurants, bars, a spa, and access to a beautiful stretch of beach.
Ocean Coral & Turquesa – All Inclusive – Located in Puerto Morelos, north of Tulum, this all-inclusive resort features spacious rooms, swimming pools, a spa, restaurants, bars, and a range of activities for guests to enjoy.
Tulum offers a diverse and delectable culinary scene. Here are some famous foods in Tulum:
Ceviche – Tulum is renowned for its fresh and flavorful ceviche, typically made with local seafood such as fish or shrimp, marinated in citrus juices, and mixed with onions, tomatoes, cilantro, and spices.
Tacos al Pastor – These mouthwatering tacos are a must-try in Tulum. Thinly sliced marinated pork is cooked on a vertical spit, topped with pineapple, onions, cilantro, and served on warm corn tortillas.
Tamales – Tamales are a traditional Mexican dish made with masa (corn dough) filled with various ingredients such as meat, cheese, or vegetables, wrapped in a corn husk, and steamed to perfection.
Pescado Tikin Xic – A local specialty, Pescado Tikin Xic features grilled fish, typically red snapper or grouper, marinated in achiote paste, citrus juices, and spices. It is served with rice, beans, and tortillas.
Chiles Rellenos – This classic Mexican dish consists of roasted poblano peppers stuffed with cheese, meat, or vegetables, coated in a light batter, and fried until golden. It is often served with tomato sauce and rice.
Torta de Cochinita Pibil – Cochinita Pibil is a traditional Yucatecan dish where pork is marinated in achiote paste and sour orange juice, slow-cooked until tender, and served in a sandwich (torta) with pickled onions and habanero salsa.
Agua Frescas – These refreshing fruit-based beverages are perfect for quenching your thirst in Tulum's warm climate. Flavors include watermelon, pineapple, hibiscus, and tamarind.
Sopes – Sopes are small, thick tortillas topped with refried beans, shredded meat (such as chicken or pork), lettuce, cheese, salsa, and often garnished with crema and avocado.
Churros – A popular Mexican dessert, churros are deep-fried dough pastries coated in cinnamon sugar. They are often served with a side of chocolate sauce for dipping.
Pozole – A hearty and flavorful soup, pozole features hominy (dried corn kernels) cooked with meat (usually pork), chili peppers, and spices. It is garnished with shredded cabbage, radishes, lime, and other toppings.
These are just a few of the famous foods you can savor in Tulum, where the blend of local flavors and traditional Mexican cuisine create a gastronomic delight for visitors.
Here are some of the most famous places to visit in Tulum:
Tulum Ruins – The Tulum Ruins are the most iconic and famous attraction in Tulum. Perched on a cliff overlooking the Caribbean Sea, these Mayan ruins offer breathtaking views and a glimpse into the ancient civilization's history.
Gran Cenote – A natural wonder, the Gran Cenote is a stunning freshwater sinkhole surrounded by limestone caves. Visitors can swim, snorkel, or dive in the crystal-clear waters and admire the underwater rock formations.
Sian Ka'an Biosphere Reserve – A UNESCO World Heritage Site, Sian Ka'an is a vast protected area teeming with diverse ecosystems, including mangroves, lagoons, coral reefs, and dense forests. Guided tours offer the chance to spot wildlife and explore the natural wonders.
Tulum Beaches – Tulum's beaches are renowned for their white sand and turquoise waters. The stretch of coastline is dotted with beach clubs, each offering a unique atmosphere and beachfront relaxation.
Coba Ruins – Although not in Tulum proper, the Coba Ruins are a significant archaeological site located nearby. Visitors can climb the Nohoch Mul pyramid, the tallest in the Yucatan Peninsula, for panoramic views of the jungle.
Cenote Dos Ojos – Another captivating cenote, Dos Ojos is famous for its interconnected underwater caves, making it a popular spot for snorkeling and scuba diving enthusiasts.
Akumal – Just north of Tulum, Akumal is known for its clear waters and the opportunity to swim with sea turtles. Snorkelers can observe these majestic creatures in their natural habitat.
Punta Laguna – A nature reserve and monkey sanctuary, Punta Laguna offers a chance to spot spider monkeys, explore the jungle, and kayak in the serene lagoon.
Cenote Calavera (Temple of Doom) – This cenote is renowned for its unique skull-like shape, with openings resembling eye and mouth sockets. Adventurous visitors can jump into the cenote's deep water from various heights.
Tulum Art Club – A vibrant art space showcasing contemporary works, Tulum Art Club offers visitors a chance to explore and appreciate the local art scene.
These famous places in Tulum provide a mix of ancient history, natural beauty, and cultural experiences, making each visit a truly memorable and enriching journey.
Reviews of Tulum from various places:
TripAdvisor: "Tulum is a true paradise! The stunning beaches, crystal-clear waters, and ancient ruins create a magical atmosphere. It's the perfect blend of relaxation, history, and natural beauty."
Lonely Planet: "Tulum's bohemian vibe, eco-conscious resorts, and breathtaking cenotes make it a top destination for travelers seeking a unique and sustainable experience. The combination of Mayan heritage and Caribbean allure is simply irresistible."
The New York Times: "Tulum has become a haven for stylish jet-setters looking to escape the crowds. With its trendy beach clubs, upscale resorts, and world-class dining options, it offers a chic and laid-back retreat."
Conde Nast Traveler: "Tulum is a tropical paradise that effortlessly blends ancient ruins with luxury. The powdery beaches, turquoise waters, and wellness-focused resorts create an idyllic escape for discerning travelers."
National Geographic: "Tulum is a treasure trove of natural wonders. From the mesmerizing cenotes to the sprawling Sian Ka'an Biosphere Reserve, this coastal town showcases the beauty and biodiversity of the Yucatan Peninsula."
Travel + Leisure: "Tulum's boho-chic vibes, Instagram-worthy scenery, and farm-to-table culinary scene make it a trendy and sought-after destination. It's a place where you can unwind, rejuvenate, and indulge in the finer things in life."
CNN Travel: "Tulum's ruins offer a fascinating glimpse into the Mayan civilization, while the pristine beaches provide an opportunity for relaxation and exploration. It's a destination that effortlessly blends history, nature, and luxury."
Vogue: "Tulum has captured the hearts of fashionistas and wanderlusters alike. With its stylish beach clubs, designer boutiques, and holistic wellness retreats, it has become the ultimate destination for the effortlessly cool."
Forbes: "Tulum's sustainable approach to tourism sets it apart. From eco-friendly resorts to locally sourced cuisine, it showcases a commitment to preserving its natural beauty and cultural heritage."
BBC Travel: "Tulum's charm lies in its ability to transport visitors to a bygone era. The ancient ruins perched on the cliffside overlooking the Caribbean Sea create a sense of awe and wonder that is truly unforgettable."