Tahiti
Tahiti, the largest and most well-known island in French Polynesia, is a tropical paradise that captures the imagination with its breathtaking natural beauty and vibrant Polynesian culture. With its azure lagoons, lush rainforests, and captivating traditions, Tahiti offers a unique and enchanting experience for visitors.
One of the most alluring aspects of Tahiti is its stunning landscapes. The island is adorned with pristine white-sand beaches, surrounded by crystal-clear turquoise waters that teem with vibrant marine life. The famous overwater bungalows, perched above the lagoons, provide a luxurious and idyllic retreat. Exploring the lush rainforests and hidden waterfalls reveals a verdant paradise, where vibrant flora and fauna thrive in abundance.
Tahiti is not only a feast for the eyes but also a cultural haven. The Polynesian culture is deeply rooted in the island's heritage, and locals take great pride in preserving their traditions. Visitors have the opportunity to immerse themselves in the vibrant rhythms of Tahitian dance, mesmerizing performances of ancient chants, and the intricate craftsmanship of traditional arts and crafts. The warm hospitality of the Tahitian people invites travelers to embrace the spirit of "mana," a concept that encompasses the power and life force that flows through everything.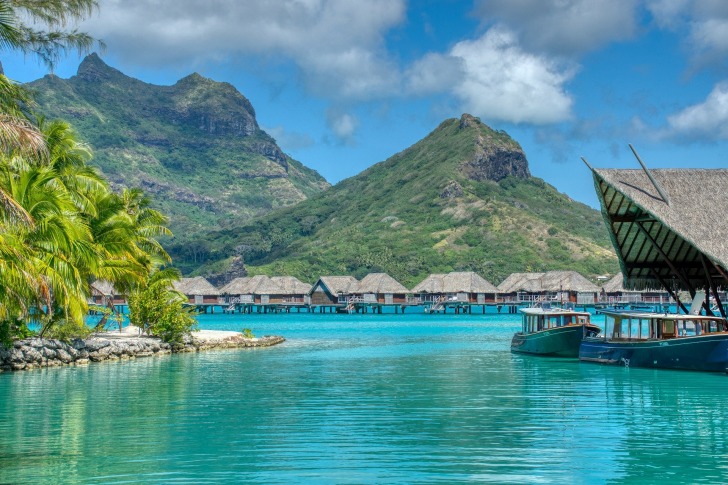 The cuisine of Tahiti is a delightful fusion of traditional Polynesian flavors and French influences. Fresh seafood, tropical fruits, and aromatic spices are combined to create mouthwatering dishes. Poisson cru, a raw fish salad marinated in lime and coconut milk, is a must-try delicacy that showcases the island's culinary prowess. The bustling local markets offer an array of exotic fruits, fragrant vanilla, and colorful pareos, allowing visitors to savor the vibrant flavors and embrace the Tahitian way of life.
For those seeking adventure, Tahiti does not disappoint. The island offers a myriad of outdoor activities, from snorkeling in vibrant coral gardens to surfing legendary waves. Hiking trails lead to stunning viewpoints, where panoramic vistas of majestic peaks and cascading waterfalls await. Exploring the mysterious caves and engaging in thrilling water sports like jet skiing and paddleboarding offer exhilarating experiences.
In conclusion, Tahiti is a tropical paradise that captivates with its awe-inspiring landscapes, rich cultural heritage, and thrilling adventures. It is a destination where one can disconnect from the worries of the world and reconnect with nature and oneself. Tahiti truly embodies the essence of paradise and beckons travelers to indulge in its beauty and embrace the spirit of aloha.
Top questions and answers people ask about Tahiti:
What is the best time to visit Tahiti? The best time to visit Tahiti is during the dry season, which falls between May and October.
What is the currency in Tahiti? The currency used in Tahiti is the French Pacific Franc (XPF).
Do I need a visa to visit Tahiti? No, visitors from many countries, including the United States and European Union, do not need a visa to enter Tahiti for stays of up to 90 days.
What is the official language spoken in Tahiti? The official language of Tahiti is French, but Tahitian is also widely spoken.
Are there direct flights to Tahiti? Yes, there are direct flights to Tahiti from various international destinations, including Los Angeles, Paris, and Auckland.
What are the popular activities to do in Tahiti? Popular activities in Tahiti include snorkeling, diving, surfing, hiking, exploring waterfalls, and experiencing traditional Polynesian culture.
Can I swim with sharks in Tahiti? Yes, there are guided shark diving and swimming experiences available in Tahiti for those seeking an adventurous encounter with these majestic creatures.
Are there luxury resorts in Tahiti? Yes, Tahiti is known for its luxurious overwater bungalows and resorts that offer an unparalleled experience of relaxation and luxury.
Is it safe to travel to Tahiti? Tahiti is generally a safe destination for travelers. However, it's always recommended to take normal precautions and be aware of your surroundings.
What is the legal drinking age in Tahiti? The legal drinking age in Tahiti is 18 years old.
Are there any specific customs or etiquette I should be aware of in Tahiti? It is customary to greet people with a kiss on the cheek and remove your shoes when entering someone's home or certain establishments in Tahiti.
Can I use my credit card in Tahiti? Credit cards are widely accepted in most hotels, restaurants, and shops in Tahiti. However, it's a good idea to carry some cash for smaller establishments.
Are there any health precautions I should take before traveling to Tahiti? It's recommended to consult with your doctor regarding any necessary vaccinations or health precautions before traveling to Tahiti.
Is tap water safe to drink in Tahiti? While the tap water in Tahiti is generally safe to drink, it is advisable to drink bottled water for those with sensitive stomachs.
Are there any traditional festivals or events in Tahiti? Tahiti hosts various vibrant cultural festivals and events throughout the year, such as the Heiva Festival, celebrating Polynesian music, dance, and sports.
Can I rent a car in Tahiti? Yes, rental cars are available in Tahiti, and driving is on the right-hand side of the road.
What are the popular islands to visit near Tahiti? Popular nearby islands to visit include Bora Bora, Moorea, Huahine, and Raiatea.
Is Wi-Fi easily accessible in Tahiti? Wi-Fi is readily available in most hotels, resorts, and public areas in Tahiti.
What is the dress code in Tahiti? Tahiti has a relaxed dress code, and casual resort wear is generally acceptable. However, it's recommended to dress more modestly when visiting religious or sacred sites.
Top Hotels in Tahiti:
InterContinental Tahiti Resort & Spa: Nestled in a tropical garden, the InterContinental Tahiti Resort & Spa offers stunning views of Moorea. With spacious rooms, a luxurious spa, and a beautiful lagoon, it provides a tranquil and idyllic escape.
Manava Suite Resort Tahiti: Located on the west coast of Tahiti, Manava Suite Resort Tahiti features stylish suites with modern amenities. The resort boasts a large infinity pool, a bar with panoramic views, and easy access to the beach.
Tahiti Ia Ora Beach Resort by Sofitel: Situated on a white-sand beach, Tahiti Ia Ora Beach Resort by Sofitel offers a mix of bungalows and rooms with stunning ocean views. Guests can enjoy water sports, a spa, and traditional Polynesian entertainment.
Hotel Tahiti Nui: In the heart of Papeete, Hotel Tahiti Nui offers contemporary rooms with city or ocean views. The hotel features a rooftop pool, a restaurant, and a bar, providing a comfortable and convenient stay.
Le Meridien Tahiti: Set amidst tropical gardens, Le Meridien Tahiti offers spacious overwater bungalows and beachfront suites. Guests can relax by the infinity pool, indulge in a spa treatment, or explore the surrounding lagoon.
Royal Tahitien: With a private beach and lush gardens, Royal Tahitien offers a peaceful retreat. The hotel features charming bungalows, a waterfront restaurant, and a variety of water activities for guests to enjoy.
Hotel Tiare Tahiti: Situated in downtown Papeete, Hotel Tiare Tahiti offers comfortable and affordable rooms. The hotel provides a convenient base for exploring the city's vibrant markets, shops, and restaurants.
Le Tahiti by Pearl Resorts: Located on Lafayette Beach, Le Tahiti by Pearl Resorts offers spacious bungalows with stunning ocean views. The resort features a swimming pool, a restaurant, and a range of water sports activities.
Top shopping places in Tahiti:
Le Centre Vaima: Located in downtown Papeete, Le Centre Vaima is a popular shopping mall that houses a variety of shops and boutiques. Visitors can find clothing, accessories, local crafts, and souvenirs.
Carrefour Punaauia: Situated in Punaauia, Carrefour Punaauia is a large supermarket that offers a wide range of groceries, household items, and clothing. It also features a section with local products and souvenirs.
Le Marché de Papeete: Known as the Papeete Market, Le Marché de Papeete is a vibrant open-air market where visitors can find fresh produce, local crafts, tropical fruits, flowers, and traditional Tahitian products.
Centre Moana Nui: Located in Punaauia, Centre Moana Nui is a modern shopping center that houses a variety of stores, including clothing boutiques, jewelry shops, electronics stores, and beauty salons.
Le Marché de Punaauia: Situated in Punaauia, Le Marché de Punaauia is a local market where visitors can browse through stalls selling fresh fruits, vegetables, fish, handicrafts, and traditional Tahitian products.
Centre Commercial Pacific Plaza: Situated in Papeete, Centre Commercial Pacific Plaza is a shopping complex that offers a range of stores, including fashion boutiques, jewelry shops, electronics stores, and restaurants.
Le Petit Village: Located in Papeete, Le Petit Village is a charming shopping area that features a collection of small shops and boutiques selling clothing, accessories, souvenirs, and local handicrafts.
Famous food to try in Tahiti:
Poisson Cru: Also known as "Tahitian ceviche," Poisson Cru is a popular dish in Tahiti. It consists of raw fish, typically tuna or mahi-mahi, marinated in lime juice and coconut milk, and mixed with vegetables such as tomatoes, onions, and cucumbers.
Firi Firi: Firi Firi is a traditional Tahitian snack made from deep-fried dough. The dough is usually shaped into long, thin strips or small balls and is often served alongside other dishes or enjoyed on its own.
Pua'a Roti: This dish features roasted pork, seasoned with a blend of herbs and spices. The pork is slow-cooked until tender and accompanied by side dishes such as taro root or plantains.
Ma'a Tahiti: Ma'a Tahiti is a traditional Tahitian feast that showcases a variety of Polynesian dishes. It often includes roasted meats, fish, taro, breadfruit, coconut-based dishes, and a range of tropical fruits.
Po'e: Po'e is a popular Tahitian dessert made from mashed fruits, typically bananas or papayas, and mixed with cornstarch, coconut milk, and vanilla. It is steamed or baked and served chilled.
I'a Ota: I'a Ota is a Tahitian-style raw fish salad. Fresh fish, such as tuna or red snapper, is marinated in lime juice, coconut milk, onions, tomatoes, and other seasonings. It is often garnished with fresh herbs and enjoyed as an appetizer or main course.
Tamara'a: Tamara'a is a traditional Tahitian soup made with coconut milk, taro root, seafood, and various vegetables. It is a hearty and flavorful dish often enjoyed during special occasions or festivals.
Fei: Fei refers to the fruit of the Tahitian banana tree. These bananas are typically larger and sweeter than common bananas. They are often boiled, grilled, or baked and served as a delicious side dish or dessert.
Here are some of the most famous places to visit in Tahiti:
Papeete: The capital city of Tahiti, Papeete is a bustling urban center offering a vibrant mix of French Polynesian culture, markets, shops, and restaurants. Visitors can explore the lively waterfront, visit historical sites like the Presidential Palace, or enjoy local cuisine.
Fautaua Valley: Located near Papeete, Fautaua Valley is a lush rainforest valley with beautiful hiking trails leading to the Fautaua Waterfall. The hike offers stunning views of the surrounding mountains and an opportunity to immerse in Tahiti's natural beauty.
Point Venus: Situated on the northeastern coast of Tahiti, Point Venus is a picturesque landmark known for its black sand beach and historic lighthouse. It offers breathtaking views of the coastline and is a popular spot for picnics and sunset watching.
Teahupo'o: Famous among surf enthusiasts, Teahupo'o is a world-renowned surf break located on the southwestern coast of Tahiti. It is known for its massive and powerful waves, attracting professional surfers from around the globe.
Moorea: While not part of Tahiti island itself, Moorea is a neighboring island and a popular destination for day trips or extended stays. It is known for its stunning landscapes, including dramatic mountains, pristine beaches, and vibrant coral reefs.
Lagoonarium: Located on the western coast of Tahiti, the Lagoonarium is a unique marine park that offers visitors the chance to snorkel or swim with a variety of tropical fish, stingrays, and even sharks in a protected environment.
Arahoho Blowhole: Situated on the northern coast of Tahiti, the Arahoho Blowhole is a natural wonder where powerful waves crash against the coastline, creating spectacular water spouts that shoot up through the rock formations.
Maraa Grotto: Hidden in the lush vegetation of Tahiti, the Maraa Grotto is a mystical cave system with a freshwater pool. Visitors can swim in the clear waters, surrounded by enchanting stalactites and lush greenery.
Reviews of Tahiti from various places:
"Tahiti's breathtaking beauty and warm hospitality left us in awe. The pristine beaches, crystal-clear waters, and vibrant coral reefs made it a paradise for snorkeling and diving." – Travel Magazine
"We had an unforgettable experience exploring the lush rainforests and hiking to stunning waterfalls in Tahiti. The untouched natural beauty of the island is truly remarkable." – Adventure Travel Blog
"The vibrant markets of Papeete offered a delightful glimpse into Tahitian culture. We enjoyed browsing through the handicrafts, tasting exotic fruits, and interacting with the friendly locals." – Food and Travel Guide
"Teahupo'o's legendary waves provided an exhilarating challenge for experienced surfers. The power and size of the waves were awe-inspiring, making it a surfer's paradise." – Surfing Magazine
"Tahiti's overwater bungalows are the epitome of luxury and relaxation. Waking up to panoramic views of turquoise lagoons and enjoying direct access to the water was an unforgettable experience." – Luxury Travel Magazine
"The cultural shows and traditional dance performances in Tahiti showcased the Polynesian heritage beautifully. The music, costumes, and storytelling left us captivated and immersed in the rich local culture." – Culture and Arts Review
"Exploring the coral gardens and swimming with vibrant marine life in the Lagoonarium was a highlight of our trip. It was like stepping into an underwater paradise right off the shores of Tahiti." – Scuba Diving Magazine
"Tahiti's gastronomy delighted our taste buds with fresh seafood, tropical fruits, and unique flavors. From Poisson Cru to mouthwatering tropical desserts, the local cuisine was a true culinary adventure." – Food and Wine Magazine
"The friendly and welcoming nature of the Tahitian people made our stay even more enjoyable. Their warm hospitality and genuine smiles created a sense of belonging and made us feel like a part of the Tahitian community." – Traveler's Testimonial Blog
"Tahiti's breathtaking sunsets cast hues of orange and pink over the horizon, creating a mesmerizing spectacle. The tranquil beauty of the island during sunset was a magical and romantic experience." – Travel Photography Magazine