Marrakech, Morocco
Marrakech, located in the heart of Morocco, is a city that captivates the senses and leaves an indelible mark on the soul. With its vibrant colors, bustling souks, and rich history, Marrakech offers a unique blend of old-world charm and modern allure. This city, steeped in culture and tradition, has a myriad of attractions that make it a must-visit destination for travelers from around the globe.
One of the most enchanting aspects of Marrakech is its labyrinthine medina. The narrow, winding streets are lined with vibrant market stalls, where locals and visitors mingle, haggling over exquisite handmade crafts, intricate carpets, and aromatic spices. The souks of Marrakech are a sensory delight, with the scents of saffron and cinnamon filling the air, the sound of craftsmen hammering away at their wares, and the sight of colorful textiles and pottery adorning every corner. Exploring the medina is like stepping into a living museum, where the past and present intertwine seamlessly.
At the heart of Marrakech lies the iconic Djemaa el-Fna square. By day, the square is a hive of activity, with snake charmers, street performers, and food vendors vying for attention. As the sun sets, the square transforms into a magical spectacle, as the air fills with the mesmerizing sounds of traditional music and the aromas of sizzling street food. Djemaa el-Fna is the beating heart of Marrakech, where the pulse of the city can be felt most strongly.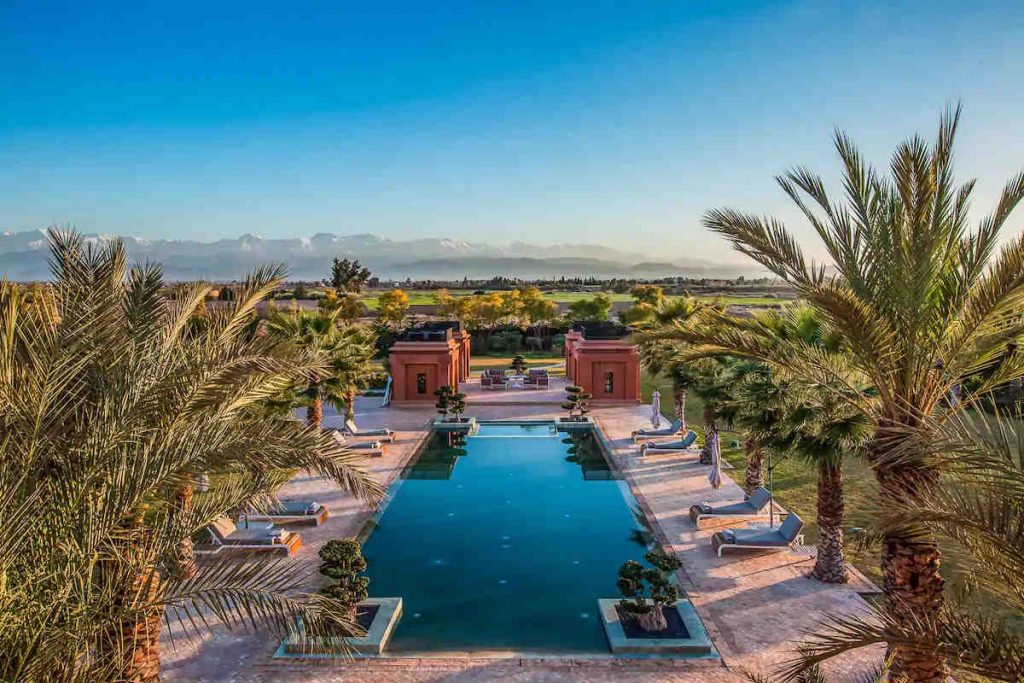 Beyond the bustling streets, Marrakech offers a tranquil retreat within its exquisite gardens. The Majorelle Garden, with its cobalt blue buildings, lush greenery, and vibrant flora, is a haven of peace and beauty. Originally designed by French painter Jacques Majorelle, the garden now houses the Islamic Art Museum and provides a serene escape from the city's hustle and bustle. Another gem is the Menara Gardens, with its serene reflecting pool and panoramic views of the Atlas Mountains. These gardens offer respite from the heat and a chance to immerse oneself in nature's embrace.
Marrakech is also a gateway to the majestic Atlas Mountains, offering opportunities for adventurous excursions and breathtaking hikes. The snow-capped peaks provide a stunning backdrop to the city, and a trip to the nearby Ourika Valley or the Toubkal National Park allows visitors to experience the raw beauty of the Moroccan landscape.
In conclusion, Marrakech is a city that beckons travelers with its vibrant culture, historical treasures, and natural wonders. From the bustling souks to the tranquil gardens, this Moroccan gem has something to offer every visitor. Marrakech is a tapestry of colors, scents, and sounds, waiting to be discovered and cherished by those who venture within its ancient walls.
Top questions and answers people ask about Marrakech:
What is the best time to visit Marrakech? The best time to visit Marrakech is during the spring (March to May) and fall (September to November) when the weather is mild and pleasant.
Is Marrakech safe for tourists? Marrakech is generally a safe city for tourists. However, it is always advisable to take basic precautions and be aware of your surroundings, especially in crowded areas.
What are the must-see attractions in Marrakech? Some must-see attractions in Marrakech include Jardin Majorelle, Bahia Palace, Koutoubia Mosque, Saadian Tombs, and the vibrant Djemaa el-Fna square.
Are there any day trips or excursions from Marrakech? Yes, there are several day trips and excursions you can take from Marrakech, such as visiting the Atlas Mountains, exploring the Ourika Valley, or taking a trip to the desert city of Ouarzazate.
What is the local currency in Marrakech? The local currency in Marrakech is the Moroccan dirham (MAD). It is advisable to have some cash on hand as not all places accept credit cards.
What is the official language spoken in Marrakech? The official language of Marrakech is Arabic. However, many locals also speak French and English, especially in tourist areas.
What is the traditional food in Marrakech? Traditional Moroccan cuisine is popular in Marrakech. Some must-try dishes include tagine (slow-cooked stew), couscous, and Moroccan mint tea.
Are there any cultural customs or etiquette I should be aware of in Marrakech? In Marrakech, it is respectful to dress modestly, particularly when visiting religious sites. It is also customary to greet people with a handshake and to accept offers of tea or refreshments.
How do I navigate the medina in Marrakech? The medina can be quite labyrinthine, but it is part of the charm. Hiring a local guide or using GPS on your phone can help you navigate through the narrow streets and alleyways.
What are the popular markets or souks in Marrakech? The souks in Marrakech are famous for their variety of goods. The most popular markets include the spice market, leather market, and the market for Moroccan rugs and textiles.
Can I bargain when shopping in Marrakech's markets? Yes, bargaining is a common practice in Moroccan markets. It is expected that you negotiate the price with the vendor until a mutually agreed-upon price is reached.
Are there any traditional festivals or events in Marrakech? Marrakech hosts several festivals and events throughout the year, such as the Marrakech Popular Arts Festival, the Marrakech International Film Festival, and the Marrakech Biennale.
What is the best way to get around Marrakech? The medina in Marrakech is best explored on foot. For longer distances or trips outside the city, you can use taxis, horse-drawn carriages (caleches), or rent a car.
Are there any luxury accommodations in Marrakech? Yes, Marrakech is known for its luxury accommodations, including riads (traditional Moroccan houses turned into boutique hotels) and luxury resorts offering high-end amenities and services.
Here are some top hotels in Marrakech known for their excellent amenities and hospitality:
La Mamounia: A legendary hotel that combines traditional Moroccan architecture with modern luxury. Located in lush gardens, it offers opulent rooms, a world-class spa, and renowned dining options.
Royal Mansour Marrakech: This palatial hotel offers extravagant riads, each with its own private pool and 24-hour butler service. The meticulous attention to detail and exceptional service make for an unforgettable stay.
Four Seasons Resort Marrakech: Nestled in a beautiful oasis, this luxury resort offers spacious rooms, tranquil gardens, multiple pools, and a top-notch spa. It provides a peaceful retreat just minutes away from the bustling city center.
Amanjena: Inspired by Moorish architecture, this serene resort showcases elegant pavilions and luxurious villas surrounding a picturesque central pool. The resort also features a golf course, a world-class spa, and refined dining options.
Selman Marrakech: Known for its Arabian thoroughbred horses, this luxurious hotel offers stylish rooms and suites with private terraces, a stunning outdoor pool, and exquisite equestrian shows for a unique and unforgettable experience.
Mandarin Oriental, Marrakech: Set amidst lush olive groves, this lavish resort boasts spacious villas with private pools and beautiful gardens. Guests can indulge in world-class spa treatments and savor exquisite cuisine in their renowned restaurants.
Palais Namaskar: This enchanting palace-hotel combines contemporary design with traditional Moroccan elements. With luxurious suites, serene gardens, and a serene spa, it offers an oasis of tranquility away from the city's hustle and bustle.
Sofitel Marrakech Palais Imperial: Located near the vibrant Medina, this elegant hotel features Moroccan-inspired rooms, lush gardens, and a beautiful pool area. It offers a blend of modern comfort and authentic Moroccan charm.
Kasbah Tamadot: Owned by Sir Richard Branson, this luxurious retreat is nestled in the Atlas Mountains. It offers stunning views, beautifully designed rooms and suites, and a range of outdoor activities such as hiking and camel treks.
Riad Kniza: Situated in the heart of the medina, this boutique riad exudes traditional Moroccan hospitality. With intricately decorated rooms, a serene courtyard, and a rooftop terrace, it provides an authentic and intimate experience.
While Marrakech is renowned for its vibrant souks and traditional markets, there are also several modern shopping malls and stores that offer a different shopping experience. Here are some top shopping destinations in Marrakech:
Marrakech Plaza: Located in the city center, Marrakech Plaza is a popular shopping mall featuring a variety of international and local brands, including clothing, accessories, and home decor. It also offers restaurants, cafes, and a cinema.
Menara Mall: Situated near the iconic Menara Gardens, Menara Mall is a modern shopping center with a wide range of shops, including fashion brands, electronics, and a supermarket. It also has restaurants, a food court, and a children's play area.
Carre Eden Shopping Center: This contemporary mall is known for its stylish architecture and diverse shopping options. It houses a variety of fashion brands, beauty stores, and a supermarket. The mall also features a cinema and several dining options.
Al Mazar Mall: Located in the outskirts of Marrakech, Al Mazar Mall offers a mix of shopping, entertainment, and leisure activities. It boasts a range of stores, a supermarket, restaurants, and a bowling alley.
Gueliz Center: Situated in the trendy Gueliz neighborhood, this shopping center houses an array of boutiques, fashion stores, and local designer shops. It is a great place to find unique clothing, accessories, and home decor items.
Almazar Shopping Centre: Another popular shopping destination in Marrakech, Almazar Shopping Centre features a variety of stores offering fashion, electronics, household goods, and more. It also has a hypermarket, restaurants, and a cinema complex.
Carré Eden Luxury Mall: Located in the upscale Hivernage district, Carré Eden Luxury Mall is a high-end shopping destination. It showcases luxury brands, upscale boutiques, and exclusive designer stores, along with gourmet dining options.
Marrakech Style: Known for its authentic Moroccan products, Marrakech Style is a boutique store offering a wide range of handmade crafts, textiles, ceramics, and traditional Moroccan clothing. It is a great place to find unique souvenirs and gifts.
Max & Jan: This concept store in the heart of Marrakech offers a curated selection of Moroccan and international fashion brands, accessories, and home decor items. It combines contemporary design with traditional Moroccan elements.
Artisanal Complex: For those seeking traditional Moroccan handicrafts, the Artisanal Complex is a must-visit. It houses numerous small shops selling handcrafted goods such as leather products, rugs, pottery, and jewelry.
These shopping malls and stores in Marrakech offer a diverse shopping experience, ranging from modern and international brands to traditional Moroccan crafts. Whether you're looking for high-end fashion, unique souvenirs, or local artisanal products, Marrakech has something to suit every shopper's taste.
Marrakech is renowned for its vibrant culinary scene, offering a wide array of flavorful dishes. Here are some famous foods to try in Marrakech:
Tagine: A quintessential Moroccan dish, tagine is a slow-cooked stew made with various combinations of meat (such as lamb, chicken, or beef), vegetables, and aromatic spices. It is traditionally cooked and served in a conical clay pot, which helps infuse the flavors.
Couscous: A staple in Moroccan cuisine, couscous is a fluffy semolina grain dish often served with tender meat (such as chicken or lamb), vegetables, and a flavorful broth. It is a hearty and satisfying meal.
Mint Tea (Atay): A symbol of Moroccan hospitality, mint tea is a refreshing and fragrant drink made with green tea leaves, fresh mint, and sugar. It is often served in small glasses and is an integral part of Moroccan culture.
Pastilla: Also known as "Bastilla," this is a sweet and savory pastry dish filled with a combination of pigeon meat or chicken, almonds, eggs, and aromatic spices. It is layered with delicate, flaky pastry and dusted with powdered sugar and cinnamon.
Harira: A traditional Moroccan soup, harira is a hearty and flavorful concoction made with tomatoes, lentils, chickpeas, meat (usually lamb or beef), and a blend of spices. It is often enjoyed during Ramadan and is a popular comfort food.
Mechoui: A succulent and tender slow-roasted lamb, mechoui is a celebrated dish in Moroccan cuisine. The lamb is typically seasoned with aromatic spices and cooked until it is melt-in-your-mouth delicious.
Moroccan Salads: Moroccan cuisine is known for its vibrant and flavorful salads, often made with a variety of ingredients such as tomatoes, peppers, carrots, eggplant, and herbs. Some popular salads include zaalouk (eggplant salad) and taktouka (grilled pepper salad).
Briouat: Briouat is a delicious Moroccan pastry filled with a savory mixture of meat (such as minced lamb or chicken), cheese, and aromatic herbs. It is usually fried until golden and crispy.
Moroccan Street Food: When exploring the bustling streets of Marrakech, be sure to sample some of the delicious street food offerings such as freshly grilled kebabs, merguez sausages, grilled corn on the cob, and traditional Moroccan pancakes (msemen or meloui).
Moroccan Sweets: Marrakech is famous for its array of delectable Moroccan sweets. Indulge in treats like almond-filled pastries, honey-drenched pastries such as "chebakia," and delicate date-filled cookies known as "maamoul."
Marrakech is a city rich in historical and cultural attractions. Here are some famous places to visit in Marrakech:
Jardin Majorelle: A botanical garden designed by French painter Jacques Majorelle, known for its vibrant blue buildings, exotic plants, and tranquil atmosphere. It also houses the Islamic Art Museum of Marrakech.
Djemaa el-Fna: The bustling main square of Marrakech, Djemaa el-Fna is a vibrant hub of activity. During the day, it's filled with food stalls, musicians, snake charmers, and street performers. At night, it transforms into a lively night market.
Koutoubia Mosque: Marrakech's largest mosque, known for its impressive minaret that dominates the city's skyline. It is an iconic symbol of the city and an important religious site.
Bahia Palace: A stunning 19th-century palace known for its intricate architecture, beautiful courtyards, and exquisite tilework. It offers a glimpse into the opulent lives of the past rulers of Marrakech.
Saadian Tombs: The Saadian Tombs are an important historical site that houses the mausoleums of the Saadian dynasty. Rediscovered in 1917, the tombs feature beautifully decorated chambers and serene gardens.
Medina of Marrakech: The historic heart of the city, the Medina is a UNESCO World Heritage site. Explore its labyrinthine streets, visit traditional souks (markets), and discover hidden gems tucked away in its bustling alleys.
Ben Youssef Madrasa: Once a theological college, Ben Youssef Madrasa is a stunning example of Islamic architecture. Admire the intricate tilework, ornate stucco, and serene courtyard of this ancient educational institution.
Marrakech Museum: Housed in the beautiful Dar Menebhi Palace, the Marrakech Museum exhibits a collection of Moroccan art, historical artifacts, and traditional crafts, providing insights into the city's cultural heritage.
Mellah: The historic Jewish quarter of Marrakech, Mellah offers a glimpse into the city's Jewish heritage. Visit the Jewish cemetery, explore the spice market, and admire the grand architecture of the surrounding buildings.
Atlas Mountains: While not in the city itself, the nearby Atlas Mountains offer breathtaking landscapes and outdoor adventures. Take a day trip to explore the stunning mountain scenery, Berber villages, and go hiking or trekking.
Reviews of Marrakech from various places:
"Marrakech is a sensory overload in the best way possible. The vibrant colors, bustling markets, and stunning architecture make it a truly captivating destination." – Travel+Leisure
"The magical allure of Marrakech lies in its rich history and cultural heritage. From the intricate details of the palaces to the lively atmosphere of the medina, it is a city that leaves a lasting impression." – Lonely Planet
"Marrakech is a treasure trove of flavors and aromas. The tantalizing spices, aromatic tagines, and refreshing mint tea make it a paradise for food lovers." – Food & Wine
"The energy of Marrakech is infectious. From the vibrant street performances in Djemaa el-Fna to the lively nightlife in the modern part of the city, there is never a dull moment." – The Guardian
"Marrakech is a shopper's paradise. The bustling souks offer an array of handicrafts, textiles, and ceramics, allowing visitors to immerse themselves in the rich Moroccan artisanal tradition." – National Geographic Traveler
"The riads of Marrakech offer an enchanting escape from the city's hustle and bustle. These traditional Moroccan houses turned boutique hotels provide an oasis of calm and luxury." – Conde Nast Traveler
"Marrakech is a photographer's dream. The vibrant colors of the city, intricate tilework, and picturesque landscapes of the Atlas Mountains create countless opportunities for stunning shots." – Travel Photographer
"The hospitality of the Moroccan people is exceptional. From the warm welcomes to the genuine kindness, the locals make you feel right at home in Marrakech." – TripAdvisor
"The blend of old and new in Marrakech is fascinating. The ancient palaces and historical sites coexist harmoniously with modern art galleries, trendy cafes, and stylish boutiques." – CNN Travel
"Marrakech is a cultural melting pot where East meets West. The fusion of Moroccan traditions and contemporary influences creates a unique and vibrant city that captivates visitors from all around the world." – New York Times