Hanoi, Vietnam
Hanoi, the capital city of Vietnam, is a mesmerizing destination that encapsulates the rich history, vibrant culture, and bustling energy of the country. With a history spanning over a thousand years, Hanoi is a city that effortlessly weaves together its ancient traditions with the fast-paced modern world. In this essay, we will explore the essence of Hanoi and what makes it such a captivating place to visit.
One of the most remarkable aspects of Hanoi is its architectural landscape. The city boasts a diverse range of structures, from ancient temples and pagodas to French colonial buildings and contemporary skyscrapers. The Old Quarter, with its narrow streets and traditional houses, is a labyrinth of bustling markets, street food stalls, and shops offering a glimpse into the city's past. On the other hand, the sleek and modern structures of the city center showcase Vietnam's rapid development and its embrace of the future.
Hanoi is also a city of lakes, with Hoan Kiem Lake being the heart and soul of the city. Surrounded by scenic parks and pagodas, the lake provides a tranquil oasis amidst the urban chaos. Locals and tourists alike gather here for morning exercise routines, leisurely walks, or simply to soak in the serene atmosphere. The iconic red bridge leading to the Ngoc Son Temple on an islet in the lake adds to the charm and symbolism of this enchanting place.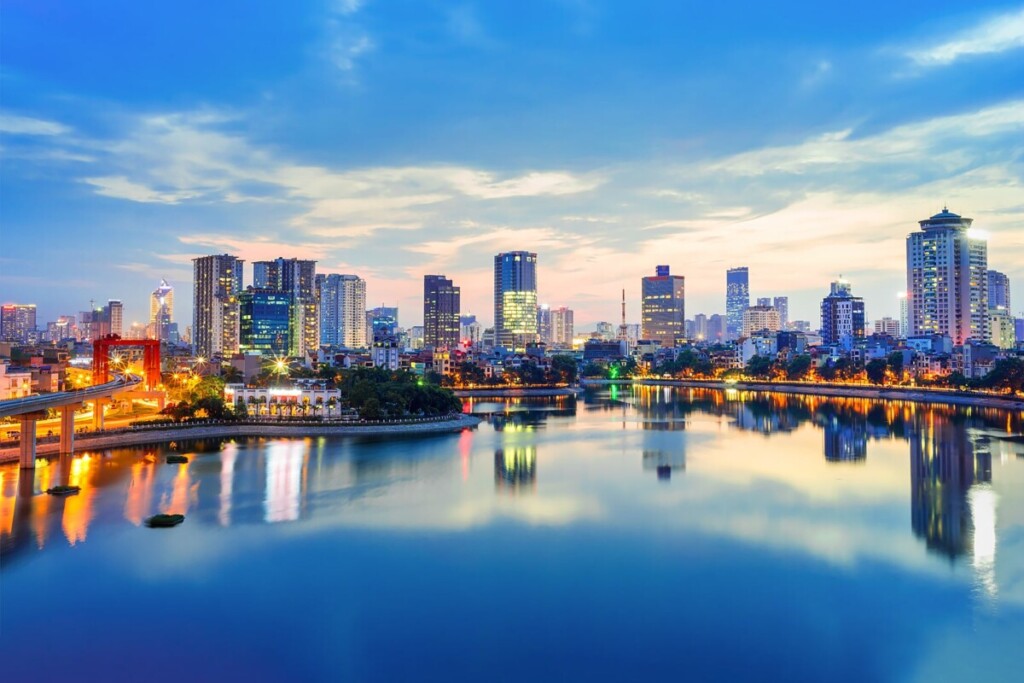 Another highlight of Hanoi is its incredible culinary scene. Vietnamese cuisine is renowned worldwide for its delicate balance of flavors and fresh ingredients, and Hanoi is a gastronomic paradise. From the ubiquitous pho, a savory noodle soup, to the flavorful bun cha, a grilled pork and noodle dish, the city offers a plethora of mouthwatering street food options. Exploring the bustling food markets and sampling the local delicacies is an adventure in itself, as it provides a glimpse into the everyday life and culinary traditions of the Vietnamese people.
Beyond its physical attractions, Hanoi is a city that pulsates with energy and cultural richness. The streets are alive with the constant hum of motorbikes, street vendors, and the laughter of locals. Traditional festivals and events are celebrated with great fervor, such as Tet (Lunar New Year) and the Mid-Autumn Festival, where the streets come alive with colorful decorations, lion dances, and vibrant parades.
In conclusion, Hanoi is a captivating city that seamlessly blends tradition and modernity. With its architectural marvels, serene lakes, tantalizing cuisine, and vibrant cultural scene, Hanoi offers visitors a truly immersive and unforgettable experience. Whether you are strolling through the historic streets of the Old Quarter or indulging in the flavors of Vietnamese street food, Hanoi will leave an indelible mark on your senses and your heart.
Top questions and answers people ask about Hanoi:
1. What is the best time to visit Hanoi? The best time to visit Hanoi is during the spring (March to April) and autumn (September to November) when the weather is pleasant and comfortable.
2. How can I get around in Hanoi? You can get around Hanoi by using public transportation such as buses and taxis or by renting a motorbike or bicycle. Walking is also a popular option, especially in the Old Quarter.
3. What are some must-visit attractions in Hanoi? Some must-visit attractions in Hanoi include Hoan Kiem Lake, the Temple of Literature, Ho Chi Minh Mausoleum, the Old Quarter, and the Water Puppet Theatre.
4. What is the local currency in Hanoi? The local currency in Hanoi, as well as in the rest of Vietnam, is the Vietnamese Dong (VND). It's recommended to have some cash on hand as not all establishments accept credit cards.
5. What are some popular dishes to try in Hanoi? Some popular dishes to try in Hanoi include pho (Vietnamese noodle soup), bun cha (grilled pork with noodles), banh mi (Vietnamese sandwich), and cha ca (grilled fish with turmeric and dill).
6. Are there any day trips or excursions from Hanoi? Yes, there are several day trips and excursions you can take from Hanoi, such as visiting the stunning limestone formations of Halong Bay, exploring the ancient capital of Hoa Lu and the picturesque Tam Coc, or visiting the mountainous region of Sapa.
7. What is the etiquette for visiting temples and pagodas in Hanoi? When visiting temples and pagodas in Hanoi, it is important to dress modestly, remove your shoes before entering, and be respectful of the sacred space and worshippers.
8. Is it safe to drink tap water in Hanoi? It is generally not recommended to drink tap water in Hanoi. It is safer to drink bottled or filtered water, which is widely available.
9. What is the nightlife like in Hanoi? Hanoi has a vibrant nightlife scene with numerous bars, clubs, and live music venues. The Old Quarter and West Lake area are popular spots for enjoying a night out in the city.
10. What are some traditional Vietnamese crafts or products to buy in Hanoi? Some traditional Vietnamese crafts or products to buy in Hanoi include silk products, lacquerware, traditional conical hats (non la), and handmade souvenirs from the local markets.
11. How can I experience Vietnamese culture in Hanoi? You can experience Vietnamese culture in Hanoi by attending traditional performances at the Water Puppet Theatre, visiting museums and historical sites, trying local cuisine, and participating in cultural festivals or events.
12. Are there any special customs or traditions I should be aware of in Hanoi? Yes, it is respectful to greet others with a slight bow or nod, avoid touching someone's head, and remove your shoes when entering someone's home. It's also polite to address people using their titles and surname.
13. What are the options for accommodation in Hanoi? Hanoi offers a wide range of accommodation options, including luxury hotels, budget guesthouses, and boutique hostels. The Old Quarter and the French Quarter are popular areas to stay in.
Top Hotels in Hanoi:
1. Sofitel Legend Metropole Hanoi Located in the heart of Hanoi's French Quarter, the Sofitel Legend Metropole Hanoi is a historic luxury hotel renowned for its timeless elegance. With its colonial architecture and world-class service, the hotel offers a blend of French sophistication and Vietnamese charm. Guests can indulge in exquisite dining experiences, relax by the pool, or rejuvenate at the luxurious spa.
2. JW Marriott Hotel Hanoi Situated by the picturesque West Lake, the JW Marriott Hotel Hanoi is a contemporary five-star hotel offering luxurious accommodations and world-class amenities. With spacious rooms, multiple dining options, a rooftop pool, and a state-of-the-art fitness center, the hotel provides a perfect blend of comfort and modernity.
3. InterContinental Hanoi Westlake Nestled on the tranquil waters of West Lake, the InterContinental Hanoi Westlake offers a serene oasis away from the bustling city center. The hotel features elegant rooms and villas built over the lake, providing breathtaking views and a sense of tranquility. Guests can enjoy a variety of dining options, including lakeside restaurants, and indulge in rejuvenating spa treatments.
4. The Oriental Jade Hotel Situated in the heart of Hanoi's Old Quarter, the Oriental Jade Hotel is a boutique hotel that combines traditional Vietnamese elements with contemporary design. The hotel offers stylish rooms, a rooftop bar with panoramic views, and a range of amenities for a comfortable stay. Its prime location allows easy access to popular attractions, street markets, and vibrant nightlife.
5. Apricot Hotel Located near Hoan Kiem Lake, the Apricot Hotel is a luxury boutique hotel that embraces both French colonial and Vietnamese cultural influences. The hotel features elegantly appointed rooms, a rooftop pool with stunning views of the city, and a unique art collection showcasing works by renowned Vietnamese artists.
6. Hilton Hanoi Opera Situated adjacent to the iconic Hanoi Opera House, the Hilton Hanoi Opera offers a blend of modern comforts and classic elegance. The hotel boasts spacious rooms, a rooftop fitness center, and a range of dining options, including a trendy rooftop bar. Its central location allows easy access to key attractions, shopping districts, and business areas.
7. Hotel de l'Opera Hanoi Inspired by the famous Opera House next door, the Hotel de l'Opera Hanoi is a boutique hotel that exudes artistic flair and opulence. The hotel's rooms feature luxurious décor and modern amenities, while its restaurant offers a fusion of Vietnamese and international cuisine. Guests can also enjoy live music performances at the on-site bar.
8. Hanoi La Siesta Diamond Hotel & Spa Nestled in the heart of the Old Quarter, the Hanoi La Siesta Diamond Hotel & Spa provides a cozy retreat with its boutique-style rooms and warm hospitality. The hotel offers a spa where guests can indulge in rejuvenating treatments and a rooftop bar with panoramic views of the city.
9. Lotte Hotel Hanoi Standing tall in the business district of Hanoi, the Lotte Hotel Hanoi is a luxury hotel offering lavish accommodations and world-class facilities. With its spacious rooms, multiple restaurants serving international cuisine, a rooftop sky lounge, and a spa, the hotel caters to the needs of both leisure and business travelers.
Top shopping places in Hanoi:
1. Vincom Center Vincom Center is a prestigious shopping destination in Hanoi, offering a wide range of high-end fashion brands, electronics, home furnishings, and gourmet food. With multiple locations throughout the city, Vincom Center provides a luxurious shopping experience and houses various international and local retailers.
2. Trang Tien Plaza Trang Tien Plaza is an upscale shopping mall located in the heart of Hanoi. It features a selection of designer fashion brands, luxury cosmetics, fine jewelry, and stylish accessories. The mall also includes a department store and several dining options.
3. Aeon Mall Long Bien Aeon Mall Long Bien is a large shopping complex situated on the outskirts of Hanoi. It offers a vast array of products, including clothing, electronics, groceries, and household items. The mall also features entertainment facilities, a cinema, and numerous dining options.
4. Times City Mega Mall Located in the Vinh Tuy area, Times City Mega Mall is a modern shopping center that caters to a diverse range of shopping needs. The mall boasts a mix of local and international brands, along with a supermarket, restaurants, and entertainment facilities.
5. Lotte Center Hanoi Lotte Center Hanoi is a multi-purpose complex that houses a shopping mall, luxury apartments, offices, and a hotel. The mall offers a variety of high-end fashion brands, lifestyle products, and gourmet food. It also boasts an observation deck on the 65th floor, providing breathtaking panoramic views of the city.
6. Parkson Parkson is a well-established department store chain in Hanoi, known for its wide range of quality products. It offers clothing, accessories, cosmetics, home furnishings, and more. Parkson is located in various shopping centers throughout the city, including Keangnam Landmark Tower and Royal City.
7. The Garden Shopping Center The Garden Shopping Center is a modern retail complex featuring a diverse mix of local and international brands. It offers fashion, cosmetics, electronics, home decor, and a range of dining options. The mall also hosts regular events and promotions.
8. Vincom Mega Mall Royal City Vincom Mega Mall Royal City is one of the largest shopping malls in Hanoi, located in the Thanh Xuan district. It houses a vast array of stores, including fashion brands, electronics retailers, entertainment centers, and a wide selection of restaurants and cafes.
9. Hanoi Lotte Mart Hanoi Lotte Mart is a popular hypermarket chain that offers a comprehensive range of groceries, household items, clothing, electronics, and more. It provides a convenient one-stop shopping experience for both locals and expatriates.
10. Hanoi Old Quarter Hanoi's Old Quarter is a bustling area filled with narrow streets and small shops. Here, you can find a variety of traditional handicrafts, unique souvenirs, silk products, lacquerware, and street food. Exploring the Old Quarter is a must-do for a truly authentic shopping experience in Hanoi.
Famous food to try in Hanoi:
1. Pho – Pho is a traditional Vietnamese noodle soup that is synonymous with Vietnamese cuisine. It typically consists of a flavorful broth, rice noodles, and either beef or chicken, garnished with fresh herbs, bean sprouts, and lime.
2. Bun Cha – Bun Cha is a popular Hanoi dish made of grilled pork served with rice noodles, fresh herbs, and a dipping sauce. It is often enjoyed with crispy spring rolls (Nem Ran) on the side.
3. Banh Mi – Banh Mi is a Vietnamese sandwich that showcases the French influence on Vietnamese cuisine. It features a crispy baguette filled with various fillings such as grilled pork, pate, pickled vegetables, and herbs.
4. Cha Ca – Cha Ca is a specialty of Hanoi that consists of grilled fish, usually catfish or snakehead fish, marinated in turmeric and served with rice noodles, peanuts, fresh herbs, and fish sauce.
5. Banh Cuon – Banh Cuon are delicately steamed rice rolls filled with a mixture of minced pork and wood ear mushrooms. They are typically served with fried shallots, fresh herbs, and a dipping sauce.
6. Xoi Xeo – Xoi Xeo is a popular breakfast dish in Hanoi, made of sticky rice steamed with turmeric and topped with mung bean paste, fried shallots, and shredded chicken or pork.
7. Cha Gio – Cha Gio, also known as Vietnamese spring rolls or imperial rolls, are deep-fried rolls filled with a mixture of minced pork, vegetables, and vermicelli noodles. They are often served with lettuce wraps and a dipping sauce.
8. Nem Ran – Nem Ran is Vietnamese crispy spring rolls filled with a combination of ground pork, shrimp, mushrooms, and vegetables. They are typically enjoyed as an appetizer or snack.
9. Bun Thang – Bun Thang is a traditional Hanoi noodle dish made with thin rice vermicelli, shredded chicken, a thinly sliced omelet, and various toppings such as dried shrimp, herbs, and fried shallots.
10. Banh Xeo – Banh Xeo are Vietnamese savory pancakes made from rice flour batter filled with shrimp, pork, bean sprouts, and herbs. They are usually wrapped in lettuce leaves and dipped in a fish sauce-based dipping sauce.
These famous foods of Hanoi showcase the diverse flavors and culinary delights that the city has to offer. Whether you're exploring street food stalls or dining in local eateries, these dishes are must-tries to experience the vibrant food culture of Hanoi.
Here are some of the most famous places to visit in Hanoi:
1. Hoan Kiem Lake – Hoan Kiem Lake, also known as the Lake of the Returned Sword, is a picturesque lake located in the heart of Hanoi. It is a popular spot for locals and tourists alike to relax, stroll around, and enjoy the peaceful atmosphere. The lake is also home to Ngoc Son Temple, which sits on a small island connected by a red bridge.
2. Ho Chi Minh Mausoleum – The Ho Chi Minh Mausoleum is a monumental structure where the preserved body of the Vietnamese revolutionary leader, Ho Chi Minh, is housed. Visitors can pay their respects and view the embalmed body in a solemn and respectful atmosphere.
3. Old Quarter – The Old Quarter is the historic heart of Hanoi and is characterized by its narrow streets, traditional shophouses, and bustling markets. It offers a glimpse into the city's rich history and vibrant culture. The area is known for its lively atmosphere, street food stalls, and traditional craft shops.
4. West Lake – West Lake is the largest freshwater lake in Hanoi and is surrounded by parks, temples, and upscale residences. It offers a peaceful retreat from the busy city and is a popular spot for walking, cycling, and enjoying scenic views. There are also several lakeside restaurants and cafes where visitors can relax and savor the surroundings.
5. Hoa Lo Prison – Hoa Lo Prison, also known as the Hanoi Hilton, is a former prison that played a significant role in Vietnamese history. It was originally built by the French colonialists to house political prisoners and later used to hold American prisoners of war during the Vietnam War. Today, the prison serves as a museum showcasing its history.
6. Vietnam Museum of Ethnology – The Vietnam Museum of Ethnology provides an in-depth look into the diverse ethnic groups that make up Vietnam. It houses a vast collection of artifacts, traditional costumes, and exhibits that highlight the rich cultural heritage of the country.
7. St. Joseph's Cathedral – St. Joseph's Cathedral, located in the heart of Hanoi, is a prominent Catholic church that showcases French Gothic architecture. It is a popular landmark and a symbol of Hanoi's religious diversity.
8. Thang Long Water Puppet Theatre – The Thang Long Water Puppet Theatre offers a unique and traditional form of entertainment. Water puppetry is a Vietnamese art form where wooden puppets are skillfully maneuvered on a water stage accompanied by live music and storytelling.
9. Long Bien Bridge – Long Bien Bridge is an iconic bridge that spans the Red River, connecting the districts of Hoan Kiem and Long Bien. It is a historic symbol of Hanoi and offers panoramic views of the cityscape and the river.
These famous places in Hanoi represent the city's rich history, culture, and natural beauty. Exploring these landmarks and attractions allows visitors to immerse themselves in the unique charm and character of the Vietnamese capital.
Reviews of Hanoi from various places:
From The New York Times: "Hanoi, Vietnam's vibrant capital, is a city that effortlessly blends tradition and modernity. Its bustling streets are filled with a myriad of sights, sounds, and flavors, offering visitors a captivating experience of Vietnamese culture."
According to Lonely Planet: "Hanoi enchants with its ancient temples, serene lakes, and bustling markets. The city's Old Quarter is a labyrinth of narrow streets where you can immerse yourself in the hustle and bustle of Vietnamese daily life."
TripAdvisor states: "Hanoi is a treasure trove of historical and cultural landmarks. From the iconic Hoan Kiem Lake to the mesmerizing Temple of Literature, the city offers a wealth of attractions that showcase its rich heritage."
From CNN Travel: "Hanoi's street food scene is renowned worldwide. The city is a paradise for food lovers, where you can savor delicious dishes like pho, bun cha, and banh mi from humble street stalls and local eateries."
According to National Geographic: "Hanoi's charm lies in its ability to preserve its traditions amidst a rapidly changing landscape. Its ancient pagodas, French colonial architecture, and vibrant markets create a unique atmosphere that captivates visitors."
The Guardian describes Hanoi as "a city of contrasts, where ancient temples coexist with modern skyscrapers. The French colonial influence is evident in its architecture, while the pulsating energy of its markets and motorbike-filled streets is truly captivating."
Rough Guides praises Hanoi, stating: "This dynamic city offers something for everyone. Whether you're a history buff exploring the Ho Chi Minh Mausoleum or a shopaholic wandering through the bustling markets, Hanoi will leave you spellbound."
From Forbes: "Hanoi's emerging art scene is not to be missed. From contemporary galleries to traditional craft villages, the city is a haven for art enthusiasts seeking to explore the vibrant creativity of Vietnamese artists."
Travel + Leisure states: "Hanoi's beautiful parks and tranquil lakes provide an oasis of calm within the bustling city. Strolling around Hoan Kiem Lake or enjoying a picnic in the lush gardens offers a peaceful respite from the urban chaos."
According to BBC Travel: "Hanoi's unique blend of history, culture, and natural beauty makes it a must-visit destination. From the iconic Water Puppet Theatre to the breathtaking landscapes of nearby Halong Bay, Hanoi offers an unforgettable journey into Vietnam's soul."