Edinburgh, Scotland
Edinburgh, the capital city of Scotland, is a place where history comes alive amidst stunning landscapes and a vibrant cultural scene. With its rich heritage, magnificent architecture, and captivating traditions, Edinburgh has earned its place as one of the most desirable destinations in the world. Let's embark on a journey to explore the essence of this enchanting city.
Nestled between the southern shore of the Firth of Forth and the Pentland Hills, Edinburgh boasts a captivating blend of medieval charm and modern vitality. The city's most iconic landmark is the Edinburgh Castle, perched atop an ancient volcanic rock. Its imposing presence has guarded the city for centuries and offers breathtaking panoramic views of the surrounding area.
The Old Town, a UNESCO World Heritage Site, takes you on a captivating journey through time. Walk along the Royal Mile, a historic street that stretches from the castle to the Palace of Holyroodhouse, the official residence of the British monarch in Scotland. Along the way, you'll encounter hidden closes (narrow alleyways) and discover centuries-old buildings that now house lively pubs, quaint shops, and cozy restaurants.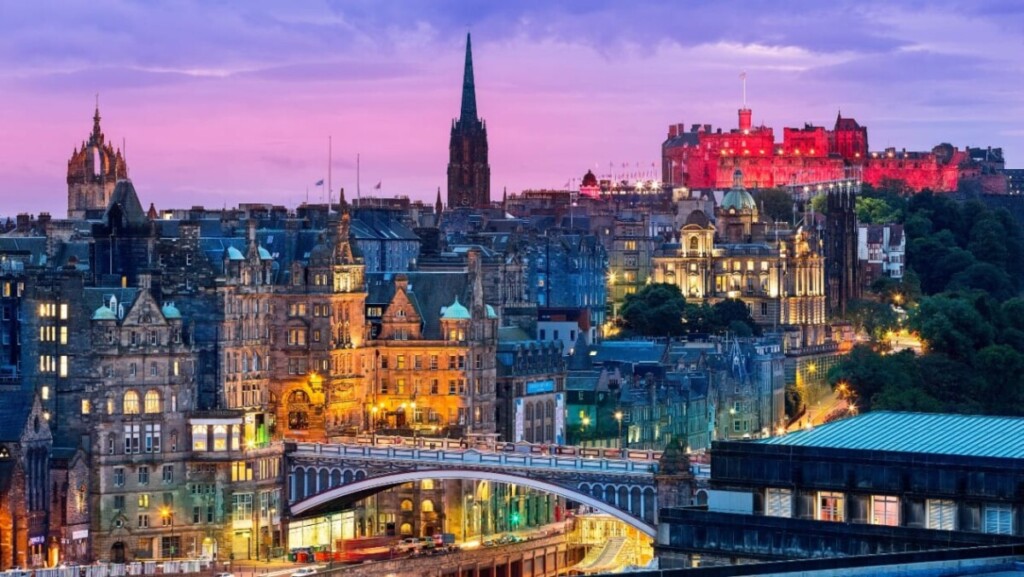 Just a stone's throw away lies the New Town, a masterpiece of Georgian architecture. Here, wide streets, elegant squares, and neoclassical buildings create a refined atmosphere. The Princes Street Gardens, a lush green oasis nestled between the Old and New Towns, offers a tranquil retreat from the bustling city. The Scott Monument, dedicated to the renowned Scottish author Sir Walter Scott, stands tall in the gardens, providing a perfect spot for reflection and admiration of the city's literary legacy.
Edinburgh's cultural tapestry is woven with artistic events and festivals throughout the year. The Edinburgh Festival Fringe, the largest arts festival in the world, brings together thousands of performers from around the globe, captivating audiences with theater, comedy, music, and dance. The city's literary heritage is celebrated during the Edinburgh International Book Festival, where acclaimed authors gather to share their work and engage in thought-provoking discussions.
For those seeking intellectual stimulation, Edinburgh is home to several prestigious institutions, including the University of Edinburgh, which has nurtured great minds throughout history. The city's intellectual atmosphere is further complemented by the National Museum of Scotland, which houses a vast collection of artifacts that tell the story of Scotland's past.
As evening falls, Edinburgh's vibrant nightlife takes center stage. The city is renowned for its pub culture, where locals and visitors come together to enjoy a pint of traditional Scotch whisky or a locally brewed ale. The lively atmosphere extends to the city's music venues, where you can indulge in everything from traditional Scottish folk music to cutting-edge contemporary sounds.
In conclusion, Edinburgh is a city that captivates with its historical grandeur, natural beauty, and cultural richness. Whether you're wandering through its medieval streets, immersing yourself in its festivals, or enjoying its thriving arts scene, Edinburgh offers an unforgettable experience that will leave a lasting imprint on your heart. It is a place where the past seamlessly blends with the present, creating a magical tapestry that entices visitors from all corners of the world.
Top questions and answers people ask about Edinburgh:
What is the best time to visit Edinburgh? The best time to visit Edinburgh is during the summer months (June to August) when the weather is relatively mild, and various festivals and events take place.
How can I get to Edinburgh from the airport? Edinburgh Airport is well-connected to the city center by various transportation options, including taxis, buses, and the Airlink Express tram service.
What are the must-visit attractions in Edinburgh? Some of the must-visit attractions in Edinburgh include the Edinburgh Castle, Royal Mile, Holyrood Palace, Arthur's Seat, and the National Museum of Scotland.
Is it necessary to book tickets in advance for Edinburgh Castle? It is highly recommended to book tickets in advance for Edinburgh Castle, especially during peak tourist seasons, to avoid long queues and ensure entry.
Are there any ghost tours available in Edinburgh? Yes, Edinburgh is famous for its haunted history, and there are various ghost tours available that take you through the city's eerie alleyways and spooky locations.
What is the significance of the Royal Mile in Edinburgh? The Royal Mile is a historic street in Edinburgh that stretches from the Edinburgh Castle to the Palace of Holyroodhouse, representing the heart of the city's Old Town and showcasing its rich heritage.
Where can I experience traditional Scottish cuisine in Edinburgh? You can experience traditional Scottish cuisine in many restaurants and pubs throughout the city. Some popular dishes to try include haggis, Scotch broth, and cranachan.
Are there any day trips from Edinburgh worth taking? Yes, there are several day trip options from Edinburgh, including visits to the picturesque Scottish Highlands, Loch Ness, Stirling Castle, and the charming town of St. Andrews.
What festivals are celebrated in Edinburgh? Edinburgh hosts various festivals throughout the year, including the Edinburgh Festival Fringe, Edinburgh International Festival, Edinburgh International Book Festival, and the Hogmanay New Year celebrations.
Can I climb Arthur's Seat? Yes, Arthur's Seat, an ancient volcano and a popular hiking spot, can be climbed, offering stunning views of the city and its surroundings.
What is the weather like in Edinburgh? The weather in Edinburgh is typically cool and damp, with mild summers and cold winters. It is advisable to pack layers and be prepared for occasional rain showers.
Is it easy to get around Edinburgh without a car? Yes, Edinburgh has an excellent public transportation system, including buses and trams, making it easy to explore the city without a car. The compact size of the city also makes it ideal for walking.
Are there any Harry Potter-related sites to visit in Edinburgh? Yes, J.K. Rowling, the author of Harry Potter, drew inspiration from Edinburgh for her books. You can visit places like The Elephant House café and Greyfriars Kirkyard, which have connections to the series.
What shopping opportunities are there in Edinburgh? Edinburgh offers a diverse shopping experience, from high-end luxury brands on George Street to traditional Scottish shops on the Royal Mile and the vibrant Grassmarket area.
Is it worth taking a guided tour of Edinburgh? Taking a guided tour of Edinburgh can be a great way to learn about the city's history, hidden gems, and local stories. There are various themed tours available, including historical, ghost, and food tours.
Are there any free attractions in Edinburgh? Yes, there are several free attractions in Edinburgh, such as the National Museum of Scotland, the Scottish National Gallery, and the Royal Botanic Garden.
Top Hotels in Edinburgh:
The Balmoral Hotel: Located in the heart of the city, The Balmoral Hotel offers luxurious accommodations and impeccable service. With its stunning Victorian architecture, elegant rooms, and a Michelin-starred restaurant, it provides a truly exceptional experience for guests.
The Scotsman Hotel: Housed in a former newspaper building, The Scotsman Hotel combines history with contemporary luxury. Its stylish rooms and suites feature modern amenities, and the hotel boasts a rooftop terrace with panoramic views of the city.
The Witchery by the Castle: Situated just steps away from Edinburgh Castle, The Witchery is a unique and enchanting hotel. Each room is individually decorated with lavish, gothic-inspired furnishings, creating a romantic and atmospheric setting.
Prestonfield House: Set within a picturesque estate, Prestonfield House offers a tranquil retreat in the city. This boutique hotel features opulent rooms, an award-winning restaurant, and beautiful gardens where guests can relax and unwind.
The Glasshouse: Located in the vibrant area of Leith, The Glasshouse is a stylish hotel with a contemporary design. Its spacious rooms offer floor-to-ceiling windows, providing stunning views of the city skyline and the surrounding hills.
The Caledonian, A Waldorf Astoria Hotel: Overlooking the iconic Edinburgh Castle, The Caledonian is a grand hotel known for its timeless elegance. It offers luxurious rooms, a lavish spa, and a range of dining options, including a gourmet restaurant with panoramic views.
Tigerlily: Nestled in the trendy neighborhood of George Street, Tigerlily is a boutique hotel with a vibrant and eclectic design. Its stylish rooms feature unique decor, and the hotel's bar and restaurant are popular hotspots for both guests and locals.
Radisson Collection Hotel, Royal Mile Edinburgh: Situated on the historic Royal Mile, this hotel combines modern comforts with a prime location. The spacious rooms are tastefully decorated, and the hotel offers excellent amenities, including a rooftop terrace and a gourmet restaurant.
These hotels provide a range of options for discerning travelers, each offering a unique experience and outstanding service in the beautiful city of Edinburgh.
Top shopping places in Edinburgh:
Princes Mall: Located in the heart of the city, Princes Mall offers a diverse range of shops, including popular high-street brands, fashion boutiques, and gift stores. It's a great place to find clothing, accessories, electronics, and more.
Ocean Terminal: Situated in the Leith area, Ocean Terminal is a waterfront shopping center with over 70 stores. It features a mix of fashion retailers, homeware shops, beauty salons, and a cinema. The mall also offers panoramic views of the Edinburgh skyline.
Multrees Walk: Known for its luxury shopping, Multrees Walk is a stylish destination in the city center. It houses prestigious international brands such as Louis Vuitton, Harvey Nichols, Gucci, and Mulberry, offering high-end fashion, accessories, and beauty products.
St. James Shopping: Currently undergoing redevelopment, St. James Shopping is set to become one of Edinburgh's premier retail destinations. Upon completion, it will feature a wide range of shops, restaurants, and entertainment options.
Jenners: A historic landmark on Princes Street, Jenners is an iconic department store in Edinburgh. It offers a curated selection of fashion, beauty, and home goods, as well as a delightful food hall showcasing local delicacies.
Cameron Toll Shopping Centre: Located just outside the city center, Cameron Toll Shopping Centre is a popular destination for locals. It has a variety of stores, including major retailers like H&M, Boots, and Sainsbury's, providing a convenient shopping experience.
Gyle Shopping Centre: Situated in the west of the city, the Gyle Shopping Centre is home to over 70 stores, including fashion, beauty, technology, and home furnishing brands. It also offers ample parking and easy access by public transportation.
Victoria Street: Known for its charming architecture and unique shops, Victoria Street is a must-visit for shoppers looking for independent boutiques, antique stores, and quirky souvenir shops. It offers a delightful shopping experience in a picturesque setting.
Famous food to try in Edinburgh:
Haggis: Haggis is a traditional Scottish dish made from sheep's offal (heart, liver, and lungs) mixed with onions, oatmeal, suet, and spices. It is typically served with "neeps and tatties" (mashed turnips and potatoes) and is a must-try Scottish delicacy.
Cullen Skink: Cullen Skink is a hearty and flavorful soup made with smoked haddock, potatoes, onions, and cream. It has a rich, creamy texture and is often enjoyed as a comforting and warming dish.
Scotch Pie: Scotch pies are savory pastries filled with minced meat, usually beef or mutton, mixed with spices and encased in a golden-brown crust. They are a popular snack or quick meal option in Edinburgh.
Cranachan: Cranachan is a traditional Scottish dessert that consists of layers of whipped cream, raspberries, toasted oats, and honey. It's a deliciously indulgent treat that showcases the flavors of Scotland.
Fish and Chips: While not exclusive to Edinburgh, fish and chips are a beloved classic in the city. Crispy battered fish, usually haddock or cod, is served with a side of thick-cut chips (French fries) and often accompanied by mushy peas and tartar sauce.
Shortbread: Shortbread is a buttery and crumbly Scottish biscuit that is well-known and loved throughout the country. It's made with simple ingredients like butter, sugar, and flour and often enjoyed with a cup of tea or coffee.
Black Pudding: Black pudding is a type of blood sausage that is commonly found in Scottish cuisine. It is made by combining pig's blood with fat, oatmeal, onions, and various spices. It is typically served as part of a hearty Scottish breakfast.
Tablet: Tablet is a sweet confectionery similar to fudge, but with a grainier texture. It is made from sugar, condensed milk, and butter, and often flavored with vanilla. Tablet is a popular treat in Scotland, including Edinburgh.
Here are some of the most famous places to visit in Edinburgh:
Edinburgh Castle: Dominating the city's skyline, Edinburgh Castle is an iconic historic fortress that offers breathtaking views of the city. It is home to the Crown Jewels of Scotland and the famous Stone of Destiny.
Royal Mile: The Royal Mile is a historic street that stretches from Edinburgh Castle to the Palace of Holyroodhouse. It is lined with charming medieval buildings, souvenir shops, traditional pubs, and historic landmarks.
Arthur's Seat: Arthur's Seat is an ancient dormant volcano located in Holyrood Park. It offers panoramic views of the city and is a popular spot for hiking, picnicking, and enjoying the natural beauty of Edinburgh.
The Royal Yacht Britannia: Docked at the Port of Leith, The Royal Yacht Britannia was the former royal yacht of Queen Elizabeth II. It is now a fascinating museum where visitors can explore the ship's luxurious interiors and learn about its royal history.
Holyrood Palace: Holyrood Palace is the official residence of the monarch in Scotland and is located at the opposite end of the Royal Mile from Edinburgh Castle. Visitors can tour the palace and its beautiful gardens, which have witnessed centuries of royal history.
Calton Hill: Calton Hill offers panoramic views of the city and is dotted with several iconic monuments, including the National Monument, Nelson Monument, and the Dugald Stewart Monument. It's a popular spot for sunrise or sunset walks and photography.
Scottish Parliament Building: The Scottish Parliament Building is a modern architectural marvel situated near Holyrood Palace. Visitors can take guided tours to learn about the Scottish political system and explore the unique design of the building.
National Museum of Scotland: The National Museum of Scotland is a treasure trove of Scottish history, culture, and natural heritage. It houses a vast collection of artifacts, including the famous Lewis Chessmen and the stuffed body of Dolly the Sheep.
Reviews of Edinburgh from various places:
"Edinburgh is a captivating city that effortlessly blends history, culture, and stunning architecture. The enchanting Edinburgh Castle and the picturesque Royal Mile are must-see attractions." – Travel Magazine
"With its vibrant arts scene, lively festivals, and world-class museums, Edinburgh is a cultural hotspot. The city comes alive during the Edinburgh Festival Fringe, showcasing the best in theater, comedy, and performance." – Arts & Culture Blog
"Exploring the cobbled streets of the Old Town and the elegant Georgian architecture of the New Town is like stepping back in time. The juxtaposition of old and new creates a unique and charming atmosphere in Edinburgh." – Architecture Digest
"Nature lovers will be delighted by the beautiful landscapes surrounding the city. From the breathtaking views atop Arthur's Seat to the tranquil waterways of the Water of Leith, Edinburgh offers plenty of outdoor escapes." – Adventure Travel Magazine
"Edinburgh's culinary scene is a delightful fusion of traditional Scottish dishes and innovative gastronomy. From hearty haggis to Michelin-starred restaurants, food enthusiasts will find a diverse range of dining options to satisfy their palates." – Food and Wine Gazette
"Edinburgh's whisky heritage is unparalleled, with numerous distilleries and whiskey bars offering a taste of Scotland's liquid gold. Take a whisky tour and savor the rich flavors and unique characteristics of this beloved spirit." – Whisky Enthusiast Magazine
"The city's literary legacy is celebrated throughout its many bookshops, libraries, and literary festivals. From the iconic Writer's Museum to the cozy nooks of independent bookstores, Edinburgh is a haven for bookworms." – Literary Review
"Edinburgh's nightlife is vibrant and varied, with a range of pubs, clubs, and live music venues. From traditional pubs serving fine ales to trendy cocktail bars, there's something for everyone to enjoy after dark." – Nightlife Guide
"For shoppers, Edinburgh offers a mix of high-end boutiques, quirky independent stores, and bustling markets. From luxury brands on Multrees Walk to vintage finds on Victoria Street, retail therapy is a delight in this city." – Fashion and Style Magazine
"The warmth and hospitality of the locals truly make Edinburgh a welcoming destination. From the friendly banter in the local pubs to the informative guided tours, visitors are sure to feel at home in this charming Scottish city." – Travel Blog